I am so excited to share with you my latest sewing project. I feel like it's been so long. I guess the last thing I sewed for my kids goes back to december. Wow!
So today I am sharing my amazing and crazy talented friend
Laura
's from
Titchy Threads
latest pattern the
Small Fry Skinny Jean
. Have you been following the tour? It's been so amazing to see such professional and great looking jeans pop up in my feed for the last 2 weeks.
I personally had so much fun with this pattern, I had already sewn a pair of Small Fry Skinnies for Mister M for my
12 days post,
so I figured it would be a nice challenge to change it up a little for MissE and remixed the pattern into a dress. All in all the pattern remained the same, I basically straightened the front and back crotch and kept all the other details the same. I then added the front panels and the shoulder straps. And done!
Everything about this pattern is exceptional, from the different printing options- you can print one size or all, or perhaps you prefer to send your files to be printed at the print shop, which means no taping or cutting. Say what? Yup for less than 3$! Crazy right. I still have to see if my local print shop provides this service. I sure hope so.
Next are the instructions, Laura will guide you step by step and will make you sew up your jeans like a pro. We are talking flat felled seams, coin pockets, zipper fly, half fly, adjustable waistband, belt loops, etc... You name it, she has thought of it and she makes it so simple and easy and guides you the whole way through.
And well shall we talk about the pattern itself? The fit is awesome. If you measure your kid correctly and adjust accordingly you will get the best fitting jeans ever. Your kids will love them, you will love them. Seriously, MisterM won't take his off.
Don't be scared of all the details, they are all well worth it. Actually, the pair I made Mister M didn't take me that long- I skipped a few steps, like the coin pocket and I didn't double topstitch everything and they came out looking awesome and even on the dressy side.
Oh, but I didn't leave anything out for Miss E. I even added the rivets and brass buttons. 7 buttonholes!!! If you know me, you know that that is a big deal! I had a little fun with the topstitch on my fly and went "wild" on my back pockets. I didn't use topstitch thread as I had some really bad experiences with my sewing machine in the past ( don't get me started with my piece of junk machine) but I did use neon pink thread! And yes, I did run out and had to go buy some more!
So I am personally not 100% happy with the result of my topstitching besides the crappy sewing machine, I also made my shoulder straps too long and had to redo the waistband once I had installed the buttons and rivets. Note to self- fit your clothes before you finalize them.
All in all I am happy with the results, most importantly MissE is loving her new dress. Now we are patiently waiting for the warm weather to come our way and dreaming of eating giant ice-creams. This photoshoot was our attempt to bring the summer indoors.
In case you are wondering, the top MissE is wearing is actually a dress by Neige courtesy of
Ladida
. The tights are from H&M. The moccasins are by
Manimal
.
You can see more of the details here. And the insides on the photo below ( I felt compelled to do like everyone else on the tour!). It is all just so pretty inside out!
Laura concocted one amazing pattern with so many possibilities. I had planned on doing many more pairs for the tour but things came up and was unable to cut up my aqua and yellow stretch denim you see in the backdrop of the photo shoot ( at least they served a purpose). I expect to make some shorts for the kids this summer and many more jeans, since it's pretty much all my kids wear. Funny thing is that MisterM & MissE wear pretty much the same size bottoms, so lucky me they will be able to share!
So check out the
Titchy Threads
websites for all the details. And grab a pattern- you know you want to! Laura is giving everyone a discount up until March 15th- get 20% off with promo code TOUR20.
Don't forget to have a look at all the amazing Small Fry Skinny Jeans that have been created by some super talented ladies. Florals to the real deal, all in all some crazy amazing stuff I tell you!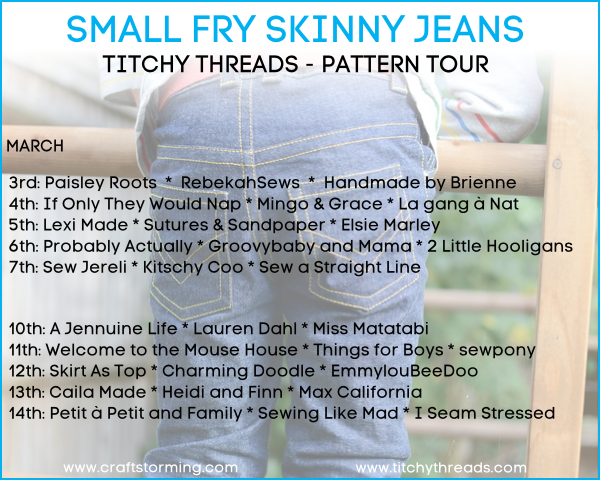 Thank you Laura for providing me with this amazing pattern and having me on your tour. I seriously LOVE it.